Awareness
Our awareness programs allow participants to learn more and assess relevance and applicability. These programs are intended to deepen understanding and surface possibilities. Participants may decide to do-it-themselves or seek further support in applying concepts.
The following programs can be delivered in a client-specific or community-based manner. Contact us for additional information, delivery options or dates.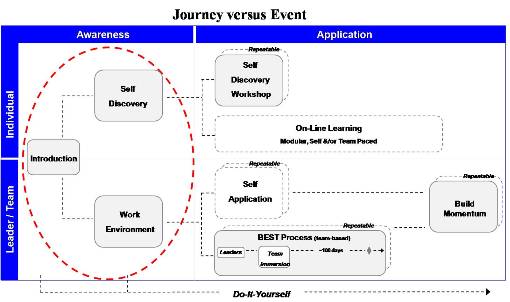 INTRODUCTION Seminar:
60-90 minutes (webinar available)
Introduces concepts, possibilities, new perspectives, and process to anyone looking for a more vibrant and productive workplace.
---
SELF-DISCOVERY Seminar:
2 hours
Examine individual traits or skills that give you a new perspective on how to bring more meaning into your work. Traits that will directly influence overall well-being and motivational balance.

---
WORK ENVIRONMENT Seminar:
2 hours
Examines four (4) environmental factors or dials that leaders should turn to create a more meaningful, vibrant and productive workplace. Participants will self-assess, identifying gaps in one or multiple of the environmental factors.