Community Vitality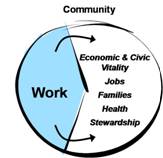 Communities are seeking creative ways to better leverage local or regional talents and resources. And the quality and effectiveness of today's workplaces has a profound effect on community health, in terms of economic and civic vitality, job creation, quality of family life, individual well-being, and finally, social stewardship – the willingness to give, advocate and volunteer.
In addition to client-specific support, GTP Associates is working to transform communities by offering a community-based approach, wherein multiple organizations or teams – across all sectors and size – can experience the Bringing Meaning into Monday™ process together. In this way, the process can be broadly delivered in an affordable and practical manner; helping transform communities by helping leaders transform their teams, departments and institutions.
Each team has a different priority/project and works independently from the others; however, they all learn by applying the same process steps – resulting in laser-like focus and shared ownership.
This community-based approach is far more affordable by spreading participation costs across multiple organizations (or teams / projects). While large organizations can/do send teams through this process, this community-based approach was developed in response to the needs of small and mid-size organizations.
Participants (teams) work on real issues or projects specific to their situation; leaders and teams learn-by-applying concepts to their specific priorities.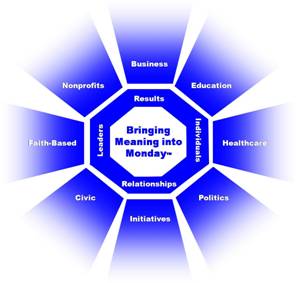 The principles that underpin Bringing Meaning into Monday™ are timeless and universal, applicable in any organization or team that is searching for sustainable ways to simultaneously:
Improve economic health
Increase productivity / eliminate waste
Engage or motivate employees
Better utilize talent
Improve employee well-being
Achieve more with less
The process is practical and repeatable and can be equally applied within all community sectors.