Optimizing work practices and systems
Optimizing work practices and systems: Successful organizations proactively assess key work processes in order to improve productivity, responsiveness, innovation and consistency.
In many cases, identifying new sources of value is a result of expanding our perspective. Today, using health care as an example, when you consider care delivery, most attention is directed to the actual provision of care – diagnosis, tests and treatment. This assumes that as long as you provide competent staff and apply best and/or proven practices (or products and services) you will achieve good results in terms of health and overall patient value.

If this is the extent in which you consider the care delivery process, these views may appear accurate; however, when viewed from the eyes of the patient, they are quite limiting. There are many other factors that determine patient (or customer) satisfaction and overall value, some that occur prior to treatment and others that occur during or post-treatment.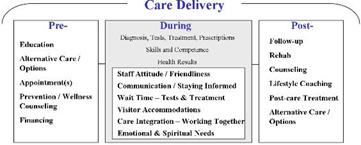 Such things as education, alternative care or financing options may be important prior to receiving treatment, each providing additional opportunities for value creation. Whereas, in addition to receiving quality care during treatment, patients are also affected by such things as staff attitude, staying informed, wait times, patient transport and visitor accommodations. Following treatment, overall patient value can be increased by addressing activities such as follow-up, counseling and after-care services. All of these factors – pre, during and post – provide opportunities for value creation and process optimization.
The point is there are numerous opportunities, small steps, within every provider, work unit or industry to increase value and creatively reduce costs via process efficiencies, which include the identification of previously unrecognized alternatives or external partners. By so doing, behaviors and practices will evolve and people and organizations will quickly realize their increased reliance upon others to deliver their products and services (or patient care) in a value-added, sustainable manner.